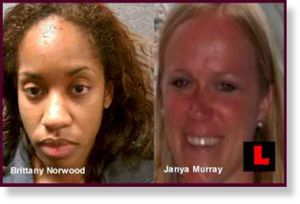 A woman convicted of killing her co-worker at an upscale yoga clothing shop in the Washington suburbs, then spinning an elaborate lie about being attacked by two masked men, was ordered Friday to spend the rest of her life behind bars.
Brittany Norwood tearfully apologized to the family of her victim in her first public statements since her arrest in March. A jury two months ago convicted Norwood of first-degree murder for bludgeoning and stabbing 30-year-old Jayna Murray, a co-worker at the Lululemon Athletica shop in Bethesda. Murray had more than 330 distinct wounds on her body, and investigators believe she was alive for the duration of the attack.
The judge was unmoved by Norwood's tears, telling the 29-year-old that her crime "exemplified the worst of human nature" and that she was "one hell of a liar." He rejected defense pleas that she was capable of rehabilitation and deserved an eventual shot at freedom.
"You mutilated this woman. And with every blow, you had a chance to think about what you were doing," said Montgomery County Circuit Court Judge Robert Greenberg in imposing a sentence of life without the possibility of parole.
The violent nature of the crime, and the initial accounts by Norwood of two murderers and rapists on the run, rattled the community northwest of Washington.