"Five Jews came from over sea with gifts to Tairdelbach [King of Munster], and they were sent back again over sea."

Annals of Inisfallen, 1079 A.D.

"I propose an interrogation of how the Irish nation can become other than white (Christian and settled), by privileging the voices of the racialised, and subverting state immigration, but also integration, policies."

Ronit Lentin (Israeli academic), From racial state to racist state: Ireland on the eve of the citizenship referendum, 2007.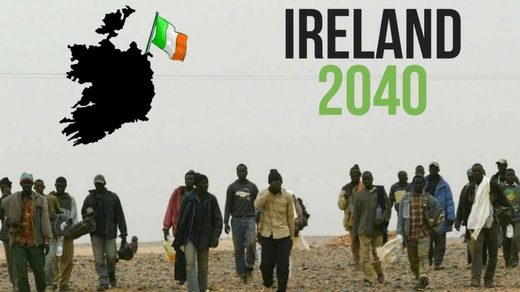 Prelude
Tairdelbach of Munster (Turlough O'Brien 1009-86), who was, by 1079, effectively the High King of Ireland, probably holds the world record for the fastest expulsion of Jews. He dominated the Irish political scene, had crushed the Viking leadership of Dublin, and possessed "the standard of the King of the Saxons." His son had even commenced raids into Wales and the British coast. Unfortunately, we can only surmise the nuances of the 70-year-old warlord's reaction to the sudden arrival of a handful of gift-bearing Jews, because the Annals of Inisfallen are thin on detail.
The delegation almost certainly originated in Normandy, where Jews thrived under a symbiotic financial relationship with William the Conqueror. William, of course, had introduced Jews to Anglo-Saxon England thirteen years before the approach to Tairdelbach, leaving open the possibility they could have travelled directly to Ireland from one of these new Jewish enclaves in England. In any event, it is almost certain that they arrived seeking permission to settle in Ireland's urban centers, forge a relationship with the Irish elite (Tairdelbach himself), and engage in exploitative moneylending among the lower social orders. This was a pattern that had hitherto been witnessed throughout Europe.
And yet Tairdelbach's reaction was to reject the gifts and immediately expel the Jews. They would not be able to form a community in Ireland for several centuries.