Activist said Assad adviser told him of 'definitive presidential orders' not to shoot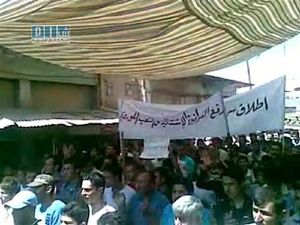 Beirut - Syrian security forces opened fire on thousands of protesters Friday, killing at least one person with a gunshot to the head as soldiers tried to blunt demonstrations by occupying mosques and blocking public squares, activists said.
The death in the central city of Homs marks the latest bloodshed in what has become a weekly rhythm during the two-month uprising, with protesters taking to the streets every Friday, only to be met with bullets, tear gas and batons.
Leading human rights activist Mazen Darwish said Friday's victim was shot in the head. A second activist in Homs put the death toll at two.
"At first they opened fire in the air but the people continued their way, and then they shot directly into the crowd," the second activist said, asking that his name not be used for fear of reprisals from the government.
He said security forces dressed in black and pro-regime gunmen known as "shabiha" were doing the shooting.