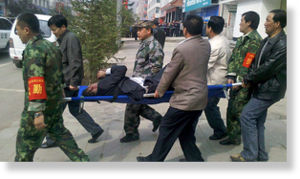 A bank cashier fired for stealing money threw a gasoline bomb inside the bank Friday in northwestern China, injuring dozens of people, some of whom jumped from a fifth-story window to escape, the local government said.
Employees of the Tianzhu County Rural Credit Cooperative Union were meeting about 8 a.m. local time when the employee threw the gasoline bomb, the propaganda office of the county's Communist Party said in a statement.
It said more than 40 people were hurt, 19 seriously. It said some of the injured jumped from the meeting room window onto a three-story building.
The statement identified the cashier as Yang Xianwen and said he was fired last month for "embezzling bank money." It said Yang fled the scene was being hunted by police.