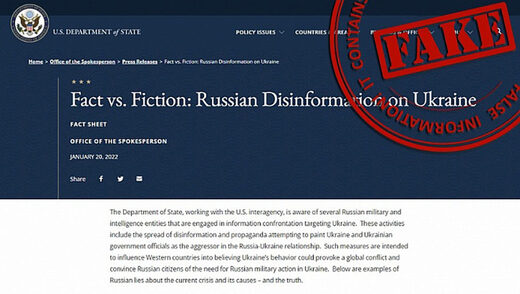 ❌
"Fact" cited by the US Department of State:
False statements from the Putin regime blame the victim, Ukraine, for Russia's aggression. Russia invaded Ukraine in 2014, occupies Crimea, controls armed forces in the Donbass, and has now amassed more than 100,000 troops on the border with Ukraine while President Putin threatens "retaliatory military-technical" measures if his demands are not met.
❗
Reality
:
The blame for
destabilising the situation in Ukraine lies entirely with the United States and other NATO countries, which supported the coup in February 2014, resulting in the toppling of the duly elected president and nationalists coming to power.
Fearing for their own safety, residents of Crimea and Donbass chose not to live under the government of the followers of Stepan Bandera and Roman Shukhevych. As a result,
Crimea reunited with Russia, the Donetsk and Lugansk regions declared independence, and Kiev unleashed a civil war against Donbass, which continues to this day.