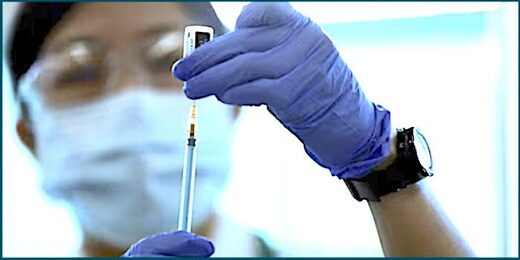 After years of injecting themselves with foreign-made mRNA injections, patriotic Japanese Covidians will finally get the chance to put some domestically made lipid nanoparticles into their bloodstreams. From
NHK World
:
A Japanese Health Ministry panel has said a coronavirus vaccine developed by Daiichi Sankyo can be used for inoculations in Japan. It would be the first Japanese-made Covid shot available for practical use.
Would you be surprised to know that the majority of the panel still wears masks?
The panel of experts held a meeting on Monday. The experts said they confirmed the vaccine's effectiveness, and that they have no serious concerns over its safety.
Banzai!
Unfortunately, the article doesn't give any details of the effectiveness the experts apparently confirmed. Fortunately, Daiichi-Sankyo previously put out a
press release
joyously announcing that the primary endpoint had been reached in the Phase Three trial of their Covid vaccine (DS-5670).
So...did DS-5670 reach 95% effectiveness like Pfizer/BioNTech and Moderna did?
The primary endpoints of the booster vaccination trial were the geometric mean blood neutralising antibody titer and immune response against SARS-CoV-2 (Omicron BA.5 subvariant) four weeks after the investigational vaccination. Results on the endpoints in the DS-5670 group were higher than those in the control group (Omicron-adapted bivalent vaccine approved in Japan), statistically demonstrating non-inferiority of DS-5670.
In other words,
DS-5670 produced more antibodies against BA.5 than the Pfizer/BioNTech or Moderna bivalent jab, neither of which has
ever been shown to be effective
.
How many more? Dunno yet.
Detailed results from the booster vaccination trial will be presented at academic conferences and in publications.
You may be thinking, "Hang on. Are you telling me that Japan just approved a completely new Covid jab based on unpublished antibody titers?" Yep, that's exactly what I'm telling you.