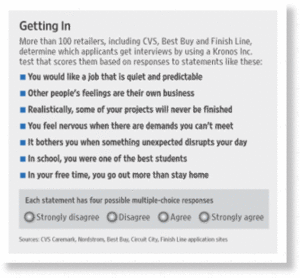 Have you ever taken a psychological profile test for a job? I have taken dozens and once upon a time could not pass one. In America (the reason I say America is because I have no idea what is needed for employment approval in other countries), certain jobs will attempt to analyze you to determine certain aspects of your personality.
Most of these tests provide somewhere between 50-600 multiple choice questions using different cross referencing techniques to determine aspects of your personality. Most try to determine your trustworthiness based on past studies and statistics. The question is, are they accurate? My determination is maybe.
Several years ago, after losing a job, I was trying to get any job to earn income between good jobs - many of us have probably done that. I applied for a waiter job at the popular restaurant Applebees. They gave me one of these psychological tests which was 60 questions. I failed it miserably. Actually, I failed it so badly that the manager let me take it again because he thought there must have been some type of freakish anomaly. The second time I took it, I didn't read the questions; I simply guessed on every answer and passed with flying colors. Of course I only worked there for a few days because I hated it.