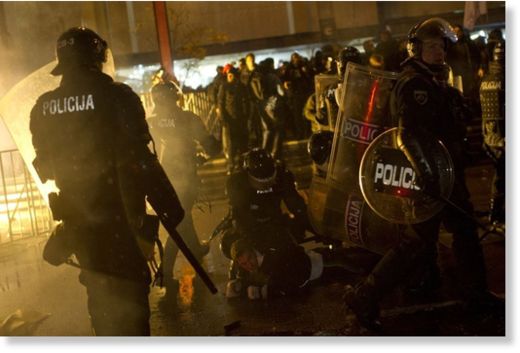 Ljbljana, Slovenia - Clashes broke out Friday night in the Slovenian capital of Ljubljana as angry demonstrators tried to push through a police cordon to storm parliament and police used water cannon and tear gas to repel them.
At least 15 people were injured and 30 were arrested in what turned into a street battle between the police and groups of hooded young extremists throwing rocks, bottles and firecrackers at them.
This was the second time this week that anti-government protests in Slovenia turned violent - an extremely rare development in the otherwise calm Alpine nation.
But tensions have been soaring before a presidential runoff vote this weekend. Slovenia has been struggling economically and is in danger of needing an international bailout.
Thousands joined the protests in Ljubljana on Friday against Prime Minister Janez Jansa and his Cabinet, accusing them of corruption and fraud and demanding their resignations.
The gathering started off peacefully. Carrying banners that read "You are finished" and "Thieves," about 8,000 people braved the drizzle and cold to express their discontent with government cost-cutting measures and other reforms designed to avoid an international bailout.
Clashes erupted at the end of the demonstration after smaller groups attacked the police guarding parliament and other state buildings. Similar clashes marred the protest earlier this week in the second-largest city of Maribor.