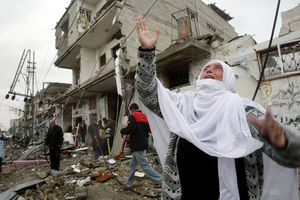 When Israeli bombs struck the Abu Khadra complex for civil administration, they also gutted the sixth floor of the Abu Shabaan complex, located 10 meters across the road. According to the
Palestinian Center for Human Rights
(PCHR), eight Israeli warplane-fired bombs leveled roughly half of the government compound in eastern Gaza City in the early hours of Nov. 21.
The bombings also took a considerable toll on the homes and businesses nearby, including the Gaza bureau of Al Jazeera.
Over 50 percent of the private medical center in the Abu Shabaan building was destroyed, says Dr. Naim Shariff, 42, owner of the Benoon In Vitro Fertilization clinic.
Two weeks after the bombing tore apart the sixth floor and ravaged the fifth floor, Shariff has re-paned the windows, ordered new specialized machinery, and re-opened for clients.
"The problem with replacing my machines and equipment is that most of it doesn't exist in Gaza. It takes months to arrive and costs more money than it would elsewhere," he says.
"What else can I do but start again? There's no insurance here for war damages."