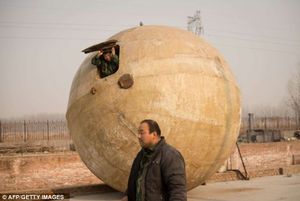 Farmer Liu Qiyuan has built seven pods consisting of a fibreglass shell around a steel frame
He hopes they will be adopted by government departments and international organisations for use in the event of tsunamis and earthquake
The airtight spheres contain oxygen tanks and seatbelts with space for around 14 people, and remain upright when in water
With just ten days to go before the Mayan apocalypse supposedly spells the end of the world, many believers may be looking for ways to dodge doomsday.
But one farmer in China believes he is ready for any eventuality after building seven emergency survival pods.
Liu Qiyuan created the fibreglass shells - dubbed Noah's Ark - after being inspired by the apocalyptic Hollywood movie 2012.