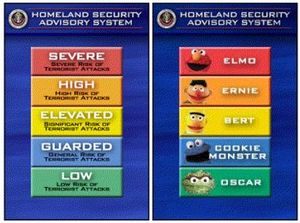 Listening to the local ClearChannel AM news radio station on the way to work this morning, I heard a famous local pundit ranting about how the
Christmas Day underwear bomber's "terror attack"
was a stark warning that terrorists are out to kill Americans and bring down the country. He angrily accused the public of foolish laziness for not urging their leaders to use every resource at the U.S. government's disposal to lock down America and purge it of the many homegrown terrorists scheming to murder us all!
Presumably with a straight face, he squawked about how lucky we were because the failure of this near-disaster could be chalked up to yet another "terrorist" who turned out to be bumbling and inept, like the "shoe bomber" and a string of others. Yet, still, we should all be having nightmares about this suicidal "gang who couldn't shoot straight" because they represent a clear and present danger to the lives of all Americans!
This commentator is of the highly articulate, smart-sounding, yet profoundly ignorant type who claims free thought and independence from partisanship, but would immediately join the Xenophobic Jingoist Authoritarian party if one officially existed. He seems to believe that entire nations of people are "crazy" and that vast populations "hate freedom" (which makes about as much sense as "hate breathing," if you think about it).