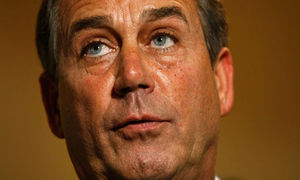 House of Representatives provokes threat of veto from Barack Obama - and raises prospect of a government shutdown
Republicans pushed through a draconian series of budget cuts worth tens of billions of dollars on Saturday, raising the prospect of a showdown with President Barack Obama.
Emboldened by their 2010 midterm election victory and swelled by Tea Party-backed newcomers, the Republican-controlled House of Representatives signed off on federal spending cuts worth $61bn. The axe will fall on federal money for public broadcasting, environmental programmes, Obama's healthcare reforms and the family planning organisation Planned Parenthood.
Even Obama's own staff face $120m of cuts. Personnel would be withdrawn from key areas including the reform of Wall Street. Some government agencies face budget cuts as high as 40%; the largest reduction in federal government spending since the second world war.