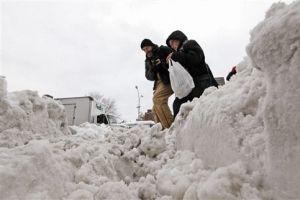 Imagine the East Coast's largest cities mixing a brew of salt, motor oil, trash and grocery carts and dumping it into rivers and harbors.
It's allowed in emergency situations, and some officials staring at massive snow mountains in densely populated areas of the winter-walloped Northeast say that time is now, even as others warn dumping snow in water comes with big problems.
"There's a lot of stuff in this snow that if I isolated it and threw it in the river, you'd have me arrested," said John Lipscomb of the New York-based environmental group Riverkeeper.
Snow from the East Coast's insistent winter is being plowed into banks that are narrowing up roads and highway ramps like hardening arteries, blocking drivers' sight lines, and forcing schoolchildren to break paths like cattle down buried sidewalks. In a normal winter, the snow melts on a good day or is carted off to designated dumps where it eventually filters its pollutants through the earth or is treated before ending up in sewers.
This is not a normal winter. Many East Coast cities, including Boston, Hartford, Conn., and New York are on their way to setting seasonal snowfall records, and the extra snow means extra road salt and human refuse that gets swept up by plows.