Violent response to protests led by Kizza Besigye has fuelled rioters' determination to throw out President Yoweri Museveni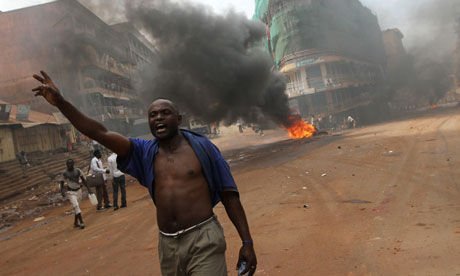 Riots have swept across the Ugandan capital, Kampala, in the biggest anti-government protest in sub-Saharan Africa so far this year.
Security forces have launched a brutal crackdown, opening fire on unarmed civilians with live rounds, rubber bullets and teargas. Two people have been killed, more than 120 wounded and around 360 arrested. Women and girls have been among those beaten, according to witnesses.
Two weeks of growing unrest - sparked by rising food and fuel prices - have gained fresh impetus after the violent arrest of the opposition leader Kizza Besigye on Thursday. Critics say President Yoweri Museveni, in power for 25 years, is losing his grip. They claim his wildly disproportionate crackdown on Besigye's "walk to work" protests smacks of panic and is sowing the seeds of popular revolt.
"I thought the police were going to kill me," said Andrew Kibwka, 18, after police with heavy sticks rained blows on him. "I was telling them I'm harmless but they just carried on. I did nothing to provoke them. They beat me because I was running away."