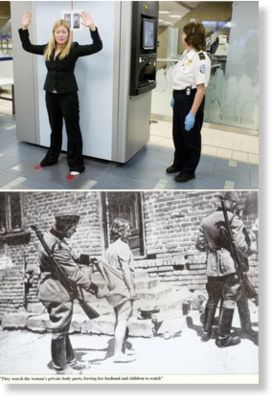 The human being is made in the image and likeness of God. He or she has the Spark of the Divine "within" him or her. He or she is the primal and primary Temple of God on earth. Each person therefore deserves from the other and gives to the other not just respect, but reverence. The destruction of a fellow human - whether it be in mind, soul, body or spirit - is therefore the desecration of the Great Temple on earth, the place in time and space where the Living God chose foremost to reside.
The sublimity, dignity and transcendental value of each human being make it a grave violation of the Presence of God and of God-given human dignity to treat a person as a thing, a widget in some one's grand illusion, a means to be used, manipulated, abused, lied to, and/or crushed to serve another's agenda
. Violate is derived from the same Latin word as violence,
violare
. To violate a reality is to do violence to that reality. To violate a reality is to treat it in a way that is not in accordance with its nature, e.g., to treat a sentient human being as if he or she were a non-sentient rock violates the reality of the human being. To treat a human being who is the living Temple of God on earth and who is infinitely loved and valued by this same God, as a tool, as a thing, as a person of no real significance beyond my utilitarian need for him or her in some grandiose plan I have concocted, rather than with the reverence, love and value that he or she intrinsically and forever possesses, as a son or daughter of my God and his or her God, of my Father and his or her Father, of the One God, is to violate him or her, to do violence to them. And, a violation of a person's intrinsic, God bestowed human dignity and transcendent value is evil regardless of how normalized it has become, how culturally acceptable it has become, how "holy" it has become or how legal it has become.
In most case most of the nefarious processes by which government does what it does are utterly hidden from the eyes of the public, who are only given a contrived packet of PR lies leading up to and after the fact of implementation. This is what is meant in the well-known line attributed to Bismarck - well known because everyone inherently recognizes its truth, even though most live in personal and communal denial of it -
Laws, like sausages, cease to inspire respect in proportion as we know how they are made.