The U2 frontman Bono has sparked anger in South Africa after an interview in which he appeared to suggest support for an anti-apartheid song that includes the line "shoot the Boer".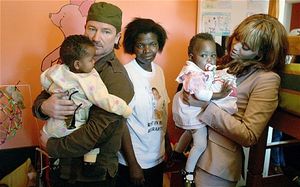 The Irish singer reportedly drew comparisons between the song and Irish republican songs, during an interview before a U2 concert in Johannesburg on Sunday night.
He was aware of the furor the song had caused, he reportedly told South Africa's
Sunday Times
newspaper, but added that protest songs were legitimate parts of political activism.
"I was a kid and I'd sing songs I remember my uncles singing ... rebel songs about the early days of the Irish Republican Army," he told the newspaper. "We sang this and it's fair to say it's folk music ... as this was the struggle of some people that sang it over some time."
The controversial South African song includes a line "shoot the Boer" or "shoot the farmer", and prompted sustained debate after the murder of Eugene Terreblanche, a white separatist leader allegedly hacked to death on his farm by two black employees.
Julius Malema, the head of the youth wing of South Africa's ruling African National Congress, was reprimanded last year for singing the song, which was an anti-apartheid anthem in the 1980s.