Society's Child
---
Sott Editors
Sott.net
Tue, 08 Jun 2010 11:16 UTC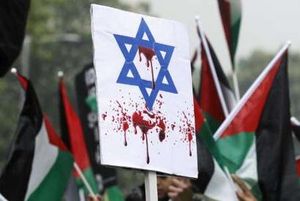 Israel's self-fulfilling prophecy moved one step closer to its tragic conclusion last month as its façade of normalcy slipped and the world glimpsed the true nature of the Zionist project in the Middle East. The massacre of innocents aboard the
Mavi Marmara
has galvanised global citizens to end the Siege of Gaza once and for all. But Israel's lunacy is altogether more dangerous following the UN's official acknowledgment that Israel is armed to the teeth with nuclear weapons. Its willingness to use them "by way of deception" strengthens the likelihood of a false-flag nuclear attack being carried out to avenge humanity's non-existent "victimisation" of the "Light unto the Nations."
We will examine the latest ridiculous case of "homegrown terrorism" in the US which took place on the eve of momentous discussions on nuclear disarmament in New York City, as well as the framing of North Korea for the sinking of the South Korean warship
Cheonan
. Was Israel involved in both events? The hysteria these two attacks generated as well as their timing certainly indicates that somebody is blowing smoke to distract people from moves on the grand chessboard. The clownish Times Square car bomb was not the real terrorist act in New York last month. Financial terrorists held the US government hostage until it reversed its decision to break up organised crime on Wall Street. Is the eurozone debt crisis similarly contrived?
The devastation in the Gulf of Mexico is more than Obama's "Hurricane Katrina." It is a crime against Nature that could easily have been averted. The Earth will continue to bleed oil until enough people wake up from their slumber. The methane gas explosion at the
Deepwater Horizon
oil rig is another wake-up call to the dangers of our pervasive and persistent wishful thinking about the world around us, our role in it and the consequences of giving away our power to those
least capable
of using it responsibly. At the same time, Nature plays its part as the planet continues to open up and methane bubbles up to the surface. There were at least three volcanic eruptions in May which dwarfed last month's hyped performance from Eyjafjallajokull. Many more have been placed on 'alert' status.
Major events of global significance are taking place on an almost daily basis now. While some could be considered "natural events", reflecting back to us the chaotic state of our world, others are willfully perpetrated to intensify chaos and distract attention from the desperate maneuvers of our intra-species predator to retain control of an environment that is rapidly changing. No deed is too abhorrent for them to purposely commit, no lie too big for them to utter. The people of Thailand may have lost the battle against its pathocratic government, but their struggle for justice against the forces of fascism is mirrored in the wave of righteous anger demonstrated by Greeks who will not submit quietly to the diktats of the faceless financial terrorists, as well as the shock-waves of revulsion at Israel's barbarity that reverberated around the world.
Let's Connect the Dots of May's mayhem...
---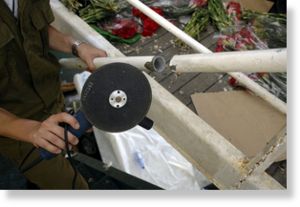 As many of you know, the state of Israel boarded the recent humanitarian mission to Gaza, killed several people on board, injured others, hijacked the boats and subsequently took all 700 people to a prison facility in southern Israel. These are the facts of the matter.
Ever since the event a plethora of lies, justifications and paramoralistic nonsense has been spouted from the mouths of the Israeli authorities and American mainstream media pundits. The biggest of all, and most easily disprovable, is that the flotilla contained weapons bound for Gaza to be used against Israeli's.
Israel has
published pictures
of "weapons" and "war material" that they confiscated from the freedom flotilla, this cash of "deadly weapons" comprises kitchen knives, pocket knives, assorted poles, angle grinders, gas masks and some flak jackets. What? No guns??
But wait, kitchen knives on board a ship that was feeding hundreds of people on a week-long voyage? Shocking! Assorted long poles...on a ship?? Outrageous! Gas masks and bullet proof vests in the possession of people who had planned to disembark in Gaza, the world's biggest open-air prison where innocent people are regularly assaulted with tear gas and shot at by IDF troops? Unthinkable! And the angle grinders! Good lord, now there's a deadly anti-personnel weapon to beat them all!
---
Kourosh Ziabari
Sott.net
Mon, 31 May 2010 16:09 UTC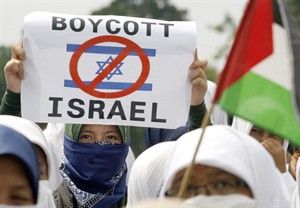 It's not unjustifiable to consider Israel as the absolute incarnation of fraudulence, relentlessness and brutality. Since its establishment, the Zionist regime has carried out actions that contravene the international regulations and cancel out human rights in one way or another. Only a brief look into the account of Israel's bloody interaction with the Palestinian people over the past 60 years shows us that this fabricated regime does not deserve "the right to exist", as U.S. and European officials periodically remind us.
Monday's assault of the Israel Defense Forces on the flotilla of humanitarian aid which was heading to the besieged Gaza Strip from Turkey left at least 16 dead and many others wounded. Never mind that Israel's criminal action violated the 4th Geneva 1949 Convention.
Just imagine for a single moment that Iran had carried out the carnage instead of Israel.
Simply replace the two names and then read the news as reported by CNN: "The Free Gaza Movement, one of the organizers of the aid, said that Iranian commandos dropped from a helicopter onto the deck of one of the ships early Monday and immediately opened fire on unarmed civilians."
---
Courtesy of
Economic Policy Journal
we now know that the majority of American states are currently insolvent, and that the US Treasury has been conducting a shadow bailout of at least 32 US states.
Over 60% of Americans receiving state unemployment benefits are getting these directly from the US government, as 32 states have now borrowed $37.8 billion from Uncle Sam to fund unemployment insurance.
The states in most dire condition, are, not unexpectedly, the unholy trifecta of California ($6.9 billion borrowed), Michigan ($3.9 billion), and New York ($3.2 billion). With this form of shadow bailout occurring, one can only wonder how many other shadow programs are currently in operation to fund states under the table with federal money.The full list of America's 32 insolvent states is below, sorted in order of bankruptedness.
---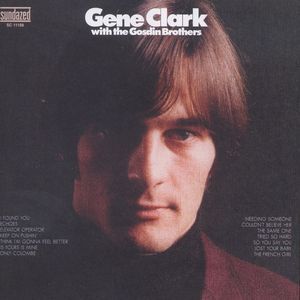 "[Gene] used to slip into these dream states, which I thought was really amazing. He'd go into these dream states and lay down on the couch and go, 'I'll be right back, Patrick.'"
- Pat Robinson, a friend and bandmate of Gene Clark
"[Gene] had these multiple personalities."
- John York, another friend and bandmate of Gene Clark
"[Gene] did seem like he had a lot on his mind and would often appear distracted. You'd say, 'Hey, Gene, what are you thinking?' and he would go, 'Huh? Oh,' like he was being brought back to reality."
- Bernie Leadon, yet another friend and bandmate of Gene Clark
In many ways, the Gene Clark story reads a lot like the Gram Parsons story. Both were considered by their peers to be among Laurel Canyon's brightest stars, yet both are now largely forgotten. Both of their lives were cut tragically short (though Clark lived considerably longer than Parsons). Both of their deaths were overshadowed to some extent by unusual events that occurred just after their passing. Both were considered pioneers of the country-rock genre. Both played for a time with the Byrds. Both recorded duets with Emmylou Harris, and both employed many of the same musicians on their various solo projects. Both had legions of female admirers. Both had a keen interest in UFOs and believed in alien visitations. Both were notorious drug and alcohol abusers.
Did anyone notice anything unusual, by the way, about that last sentence? Probably not, though there is an obvious redundancy on display. If I had written something slightly different, like "drug and heroin abusers" or "drug and cocaine abusers," you likely would have picked up on it right away. But because I used a phrase that everyone is accustomed to seeing and hearing, "drug and alcohol abusers," none of you batted an eye. I have no idea though what my point is here, so let's just move on.
---
Yet another video of
Brave
American soldiers surrounding, then shooting to death an unarmed old Iraqi man. Notice the fear on the faces of our intrepid heroes and their vile battle cries for blood as they encircle him and then shoot him down in cold blood even though he is clearly unarmed - and poses absolutely no threat to anyone. And the coup de grace? As our heroes surround the corpse one of them shouts, "Arrest him!"
---
The governors of California, New York and dozens of other US states have submitted drastic budget-cutting proposals for fiscal year 2011, which begins on July 1, 2010. Reeling from the economic recession, high rates of unemployment and the sharpest decline in tax revenue on record, states are eliminating essential services that will have a devastating effect on children, senior citizens and working people.

In Greece, Portugal, England and other countries, the crisis has taken the form of the insolvency or near insolvency of entire nations and demands for austerity by national governments acting under the whip of the global bond markets and "sovereign debt" traders.

In the US, the Obama administration has shifted much of the burden of the economic crisis onto the states and municipalities. While handing over trillions to fund the bailout of the Wall Street banks and finance two wars, the White House has starved state and local governments, and what little money was made available in the federal stimulus is drying up this year.
---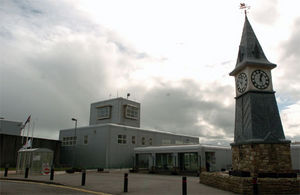 A private prison has been accused of letting down a vulnerable young remand prisoner who hanged himself in his cell.
Plaid Cymru AM Leanne Wood said Emmanuel Buyoya could still be alive if there had been a specialist remand unit in Wales for people like him accused of crimes. Instead he was sent to Parc Prison, Bridgend.
Mr Buyoya, 20, originally from Burundi in central Africa, had been accused of indecently assaulting his 22-year-old female flatmate in Cardiff.
A six-week inquest into Mr Buyoya's death concluded with the jury issuing a statement that said: "We have unanimously agreed that Mr Emmanuel Buyoya on June 29 2006, took his own life whilst the balance of his mind was disturbed."
---
At least five men rampaged across a college campus wounding 13 students, including one whose hand they chopped off.

The attack in Haikou, the capital of the southern island province of Hainan, comes after a recent rash of knife violence at Chinese elementary schools.

Eighteen people, mostly children, have died in the attacks over the past two months, sparking fears for public safety in China, a country not known for violent crime.

The pre-dawn attack on Wednesday occurred on the campus of the Hainan Institute of Science and Technology while the campus lights were out, local media reported.
---