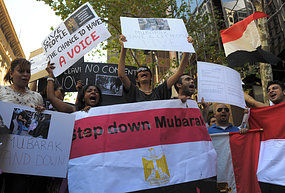 For the second weekend running demonstrators have gathered in Sydney demanding that Egyptian president Hosni Mubarak stand down.
Egyptians are calling for Mr Mubarak to stand down immediately, not later in September as he has promised.
More than 100 demonstrators in Martin Place have condemned the killing of a journalist in Cairo and reiterated demands for the president's immediate resignation.