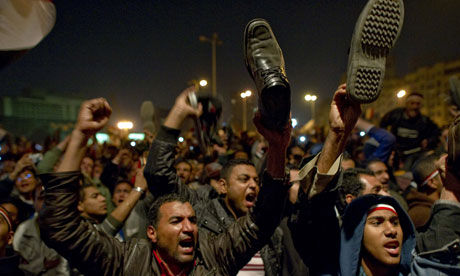 President hands some powers to vice-president Suleiman but will remain in control until September elections
President Hosni Mubarak dashed the hopes of hundreds of thousands of Egyptians celebrating what they expected would be his resignation speech by defiantly telling them he would not bow to domestic or foreign pressure to quit.
Mubarak said he would hand some powers to his vice-president, Omar Suleiman, but would remain in overall control until September to oversee what he called an orderly transition to an elected government. He repeated a pledge not to seek re-election.
He also said that there would be no going back on a commitment of long-term political reform after the two weeks of growing protests to demand his resignation. However, he ominously referred to the army playing a role in ensuring an orderly transfer of power.