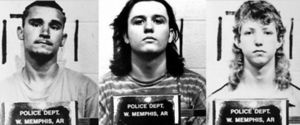 After serving 17 years behind bars for the brutal murder of three children in eastern Arkansas, Damien Echols, Jessie Misskelley Jr. and Jason Baldwin -- dubbed the "West Memphis Three" -- have been released from prison.
"They will be free men ... on suspended sentence," prosecuting Attorney Scott Ellington told reporters during a Friday press conference.
"Only time will tell as to whether this was the right decision."
All three men had been imprisoned since 1994, when they were convicted of killing three 8-year-old boys: Stevie Branch, Michael Moore and Christopher Byers.
Prosecutors alleged the trio killed the children in Robin Hood Hills on the morning of May 6, 1993, as part of a satanic ritual. According to police, the boys' bodies were mutilated and left in a ditch. Each had been hogtied with his own shoelaces.
At the time of their arrests, Baldwin was 16. Misskelley was 17, and Echols was 18.