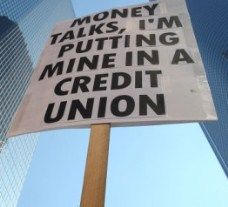 Back in November, the Occupy Wall Street movement inspired "Bank Transfer Day," a day for Americans fed up with the actions of the nation's biggest banks to move their money to a different institution. Initial estimates of the impact of Bank Transfer Day placed the number of accounts moved at around 600,000, but later estimates revised that downward to around 200,000.
However, new estimates from Javelin Strategy and Research, a research and consulting firm, show that the original numbers were closer to the truth. Javelin found that 5.6 million people have moved their bank accounts in the last 90 days, with 610,000 citing Bank Transfer Day as their reason:
Bank Transfer Day and the Occupy Movement have received tremendous attention, and for the first time we have market research data to measure the impact on the financial services industry. Javelin's research estimates that 5.6 million U.S. adults with a banking relationship changed providers in the past 90 days. Of those switchers, 610,000 US adults (or 11% of the 5.6 million) cited Bank Transfer Day as their reason and actually moved their accounts from a large to a small institution.