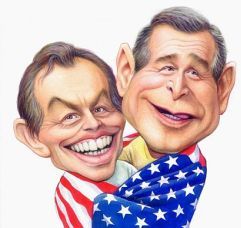 On November 19-22, 2011, the trial of George W Bush (former U.S. President) and Anthony L Blair (former British Prime Minister) will be held in Kuala Lumpur. This is the first time that war crimes charges will be heard against the two former heads of state in compliance with proper legal process.
Charges are being brought against the accused by the Kuala Lumpur War Crimes Commission (
KLWCC
) following the due process of the law. The Commission, having received complaints from war victims in Iraq in 2009, proceeded to conduct a painstaking and an in-depth investigation for close to two years and in 2011, constituted formal charges on war crimes against Bush, Blair and their associates.
The Iraq invasion in 2003 and its occupation had resulted in the death of 1.4 million Iraqis. Countless others had endured torture and untold hardship. The cries of these victims have thus far gone unheeded by the international community. The fundamental human right to be heard has been denied to them.
As a result, the KLWCC had been established in 2008 to fill this void and act as a peoples' initiative to provide an avenue for such victims to file their complaints and let them have their day in a court of law.
The first charge against George W Bush and Anthony L Blair is for Crimes Against Peace wherein:
The Accused persons had committed Crimes against Peace, in that the Accused persons planned, prepared and invaded the sovereign state of Iraq on 19 March 2003 in violation of the United Nations Charter and international law.