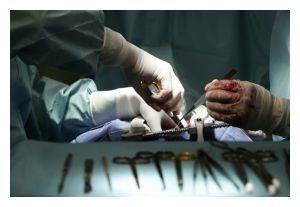 The family of an elderly patient who died in Germany after
surgeons left 16 different items in his body
during a routine operation is now suing hospital authorities for over $120,000.
Dirk Schroeder was said to have suffered "appalling agony" after the routine surgery for prostate cancer in 2009. Doctors had told him that he could expect to live another six years at least.
However, the procedure failed to relieve his pain, and within three months the 74-year-old was back in hospital after a nurse on a home visit in Hanover, Germany discovered a huge gauze pad protruding from his wound, according to Ninemsn.com.
Later, after two subsequent operations, surgeons managed to remove 16 different items from Schroeder's body, including a needle, a six-inch toll of bandage, a six-inch long compress and several swabs and a piece of surgical mask.