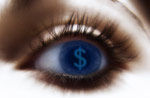 The social media empire Facebook has unveiled some new "features" on its platform in recent days that many allege are a total and compete privacy-breaching nightmare. But one hidden feature, discovered by Nik Cubrilovic, an Australian entrepreneur and writer, that few people are aware of is the fact that Facebook now monitors your online activity, even when you are not logged in to the service.
With each new change Facebook makes, users' privacy becomes a little less ... nonexistent, if you will. The most recent "News Feed" modifications, for example, display everything you say and do on the site to all of your "friends," and even to the public. And now, even after logging out of Facebook, permanent "cookies" track all your movements on websites that contain Facebook buttons or widgets.
"Even if you are logged out, Facebook still knows and can track every page you visit," Cubrilovic wrote on a recent
blog posting
. "The only solution is to delete every Facebook cookie in your browser, or to use a separate browser for Facebook interaction."
But how many Facebook users will actually know to do this? The site has never announced to its users that it is even tracking them in the first place, let alone given them any instructions on how to "opt-out" of this egregious invasion of privacy.