Society's Child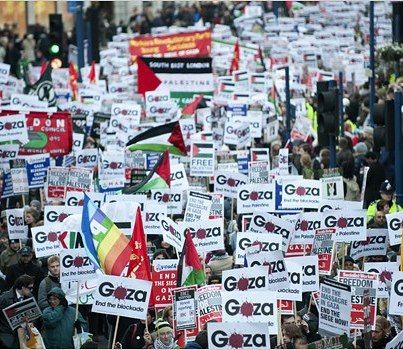 Emergency Global Actions for Gaza
Please go
here
for updated information.
---
Heather Hollingsworth
Yahoo! News
Sat, 17 Nov 2012 00:00 UTC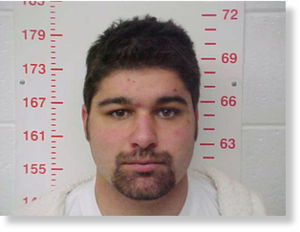 Kansas City - A southwest Missouri man who confessed this week to plotting to shoot up a
Twilight
showing and a Walmart store was detained in 2009 after threatening a store clerk, police said Saturday.
Bolivar Police Chief Steve Hamilton said Saturday that Blaec Lammers, 20, of Bolivar, followed a female clerk around a Walmart store in 2009, threatening her. He wasn't charged, but was committed for 96 hours for a mental health examination. Lammers, whose own mother turned him in Thursday, faces three felony charges in the alleged shooting plot.
In Missouri, hospitals, law enforcement officials and private citizens can request a person be held against their will for up to 96 hours if he or she appears to be a threat to themselves or others.
"It looks like everything was done appropriately at that time," Hamilton said. "The average person will look at it and say 'Why was he not charged criminally?' And the reality is the law only allows so much when a person is having some mental issues."
Lammers was charged Friday with first-degree assault, making a terroristic threat and armed criminal action. He is jailed in Polk County on $500,000 bond. Those charges focus on the alleged Walmart plot.
Polk County prosecutor Ken Ashlock said Friday that his office would file a motion asking for a mental exam of Lammers.
Phone messages left by The Associated Press at Lammers' home weren't returned Friday or Saturday. No attorney is listed for him in online court records.
The investigation into the shooting plot began Thursday, when Lammers' mother contacted authorities, saying she worried that her son "may have intentions of shooting people" during the opening weekend for the final film in the popular vampire series
, police wrote in the probable cause statement.
---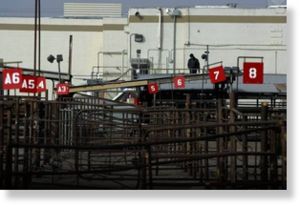 The owners of a Southern California slaughterhouse whose workers were caught on videotape abusing cattle, leading to one of the nation's biggest beef recalls, have agreed to pay more than $300,000 to settle a lawsuit.
The Los Angeles Times
reports
Donald Hallmark Sr. and Donald Hallmark Jr. also agreed to a nominal $497-million judgment against the now-defunct Hallmark Meat Packing Co., which will not be collected because the company is bankrupt.
The Hallmarks were two of nine defendants in a federal False Claims Act suit brought by the Humane Society of the United States.
The government recalled 143 million pounds of beef in 2008 after the Humane Society released video from the Chino plant showing cows too sick or injured to stand being dragged with chains and rammed with a forklift.
Source: The Associated Press
---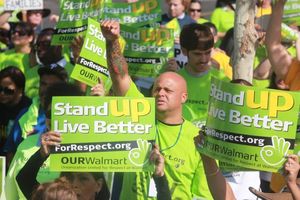 America's biggest retailer may be in for an unexpectedly painful holiday season. Protesting low wages, spiking health care premiums, and alleged retaliation from management, Wal-Mart Stores workers have started to walk off the job this week. First, on Wednesday, about a dozen workers in Wal-Mart's distribution warehouses in Southern California walked out, followed the next day by 30 more from six stores in the
Seattle area
.
The workers, who are part of a union-backed employee coalition called
Making Change at Wal-Mart
, say this is the beginning of a wave of protests and strikes leading up to next week's Black Friday. A thousand store protests are planned in Chicago, Dallas, Miami, Oklahoma, Louisiana, Milwaukee, Los Angeles, Minnesota, and Washington, D.C., the group says.
In a conference call with reporters on Thursday, workers who were either planning to strike or already striking explained their situation. "We have to borrow money from each other just to make it to work," said Colby Harris, who earns $8.90 an hour after having worked at a Wal-Mart in Lancaster, Tex., for three years. "I'm on my lunch break right now, and I have two dollars in my pocket. I'm deciding whether to use it to buy lunch or to hold on to it for next week." He said the deduction from his bimonthly pay check for health-care costs is scheduled to triple in January. In 2013, Wal-Mart plans to scale back its contributions to workers' health-care premiums, which are expected to rise between 8 percent and 36 percent. Many employees will
forgo coverage
, Reuters reports.
---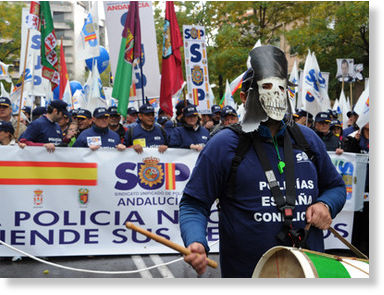 Around 5,000 Spanish police officers marched through the streets of Madrid on Saturday to protest government austerity measures, including frozen pensions and the elimination of their Christmas bonuses.
Officers travelled from across Spain to take part in the demonstration which was called by the nation's main policing union.
Protesters blew whistles, shouted slogans, and carried anti-austerity banners as they marched through the city centre to the interior ministry.
"
Citizens! Forgive us for not arresting those truly responsible for this crisis: bankers and politicians
," read one banner.
The Spanish government has imposed harsh spending cuts aimed at saving 150 billion euros between 2012 and 2014. The move has been met with anger and protests from hundreds of thousands of Spanish citizens.
The austerity measures are in exchange for a rescue loan of up to 100 billion euros from the EU to help the country's stricken banks.
"The problem is they take from us to give to others, like the autonomous regions and the banks," 33-year-old police officer Antonio Perez told AP.

Comment: You can tell that a regime is getting near the end of its days when the discontent spreads to the enforcers. Watch this space!


---
Scott Packard
cbs42.com
Fri, 16 Nov 2012 16:06 UTC

A Birmingham man is among many who say the Transportation Security Administration's tactics are aggressive and invasive.
---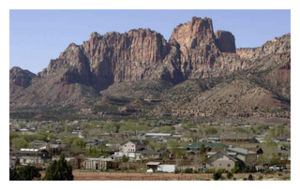 There's mystery, worry, and new indications of turmoil among followers of imprisoned polygamist leader
Warren Jeffs.
At least three of his followers' most prominent businesses were suddenly closed in the Fundamentalist LDS Church's twin towns of Colorado City, Ariz., and Hildale, Utah. The closures involved the community's only grocery store, the hardware store and a Radio Shack.
"Warren would have told them to do that," said former FLDS follower Isaac Wyler. "They wouldn't do that on their own. They wouldn't dare."
It's not known if the closures are related to a doomsday prophecy Jeffs reportedly issued last weekend.
"It's scaring the hell out of people in the United Order," said private investigator Sam Brower, referring to the most loyal members of Jeffs' church. Brower said FLDS leaders read a statement to followers last Sunday that was purported to be Jeffs' own words from a Texas prison where he's serving a life sentence for rape of a child.
According to Brower, Jeffs' statement said, "If you don't all come clean and confess your sins and wrongs, the Lord will send a scourge of death among the people of the United Order."
---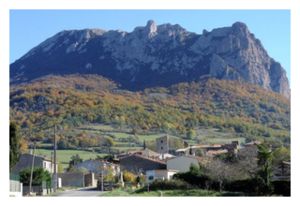 Carcassonne - France on Friday dashed the hopes of those who had planned to take refuge in one of the few places on Earth some believe will be spared when the world ends on December 21.
Local officials banned access to the Pic de Bugarach, a mountain in the southwest where rumour has it the hilltop will open on the last day and aliens will emerge with spaceships to save nearby humans.
Eric Freysselinard, the state's top representative in the area, said he was blocking access to the mountain for public safety reasons to avoid a rush of New Age fanatics, sightseers and media crews.
Believers say the world will end on December 21, 2012, the end date of the ancient Mayan calendar, and they see Bugarach as one of a few sacred mountains sheltered from the cataclysm.
Freysselinard said the 100 police and firefighters he plans to deploy will also control approaches to the tiny village of the same name at the foot of the mountain, and if too many people turn up, they will block access there too.
---
RT.com
Sat, 17 Nov 2012 10:16 UTC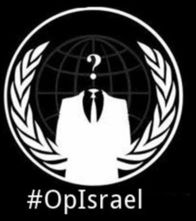 Hacker group Anonymous has launched a massive attack named #OpIsrael on almost 700 Israeli websites, protesting against Operation Pillar of Defense in Gaza. Israeli media confirmed the group's move.
­The hackers reportedly took down websites ranging from high-profile governmental structures such as the Foreign Ministry to local tourism companies' pages.
The biggest attack as of now has been the Israeli Foreign Ministry's international development program, titled Mashav. Anonymous announced on Twitter they've hacked into the program's database, with the website remaining inaccessible at the moment.
"
There is [sic] so many defaced Israeli websites right now, that we just made a list of them
,"
Anonymous tweeted.
---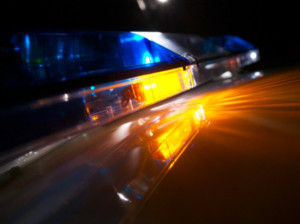 Cottage Lake, Washington - A Kings County Sheriff's deputy has been put on administrative leave after being accused of shooting at a developmentally disabled man who was holding a toy gun.
The Seattle Times
reports police got multiple calls about a man waving a gun at passing vehicles.
"The first deputy arrived minutes later and the man ignored her commands. When the man pulled the handgun from his waistband and raised it, the deputy fired about 25 yards away," Deputy Charlie Akers told the paper. "The man dropped to the ground and other deputies moved in to handcuff him."
That's when authorities discovered that the gun was a Lego toy.
---