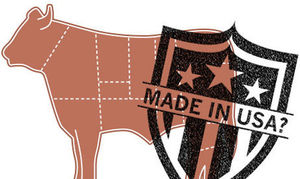 After surviving years of drought and watching the size of the U.S. cattle herd fall to its lowest level in more than 60 years, Texas cattleman Bob McCan would just as soon steer clear of the U.S. government's latest meat-labeling rules.
For many U.S. consumers, it's a popular idea:
Label packages to let them know what country the meat comes from.
But with his herd of roughly 4,000 including cattle from Mexico, McCan said there's no good reason to segregate the animals when he sells them. All it would do, he said, is create hundreds of millions of dollars of extra handling costs that would get passed on, driving up the price at grocery stores.
"We don't want beef to become a luxury item," said McCan, a fifth-generation rancher from Victoria, Texas.
McCan, now the president-elect of the National Cattlemen's Beef Association, is among a group of cattle producers and meat companies that has sued the U.S. Department of Agriculture for moving ahead in late May with new country-of-origin labeling rules.
In a lawsuit filed July 8 in U.S. District Court in Washington, the groups claim the labels will hurt beef exports and are unconstitutional as "compelled speech" that doesn't advance a government interest.
Backers of the new rules, who say labeling can be done at a minimal cost, are braced for another battle with cattle producers.