Society's Child
Gunmen armed with rocket-propelled grenades and mortars raid prisons, as attacks elsewhere kill 13.


---
The jurors who acquitted George Zimmerman say they acted in strict accordance with US law. That in itself speaks volumes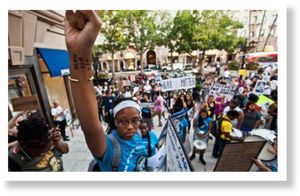 "O, wad some Power the giftie gie us /

To see oursels as others see us! /

It wad frae monie a blunder free us, /

An' foolish notion."

- Robert Burns
The US is always collectively amazed, on those rare occasions when it has cause to glimpse at how it is perceived by its less friendly critics abroad. The most egregious example, of course, was 9/11, when even the brutal enormity of the attack against America was not quite enough to still the hateful tongues of people crass enough to insist that the US had got what was coming to it. The citizens of the US have an absolute right to go about their business without being slaughtered. Of course they do. Which is why the world is aghast that this right does not extend as far as
Trayvon Martin
.
When the unarmed 17-year-old was shot dead by neighbourhood watch volunteer
George Zimmerman
on 26 February 2012, the killer wasn't even arrested for 44 days, having said that he fired in self-defence. Self-defence? He'd already called the police, telling the operator that Martin was acting suspiciously - "up to no good, on drugs or something". Zimmerman had been told by the operator not to follow the teenager. But nevertheless he found himself and his gun right next to Martin, provoking a struggle. What kind of self-defence is this, when you decide that someone is trouble, and that you're going to stalk him, safe in the knowledge that if things get out of hand ... well, you're armed? Yet a jury decided that going out armed, looking for a particular person to defend yourself against, is still self-defence, and
on 13 July Zimmerman was acquitted of murder
.
Only protest from the public ensured that Zimmerman was tried for killing Martin at all. Only protest from the public has ensured that this killing has been seen through the prism of race. Yet to an outsider, it is obvious that Martin died because he was black, and that Zimmerman walked free after killing him for the same reason.
---
French politician causes outrage after stirring up memories of holocaust

In an incendiary outburst, Gilles Bourdouleix also accuses gypsies of incest

Calls made for UDI party leader Jean-Louis Borloo to sack his colleague
A French politician has caused outrage by suggesting that Adolf Hitler 'did not kill enough' Roma gypsies.
In the latest ferocious attack on travellers, MP Gilles Bourdouleix stirred up memories of the Holocaust, when the Nazis sent thousands of gypsies to the gas chambers because Hitler believed them to be sub-human.
Mr Bourdouleix, who represents a constituency in the Maine and Loire region of west France, was visiting an illegal Roma camp in the town of Cholet, where he is deputy mayor, when he made the incendiary comments.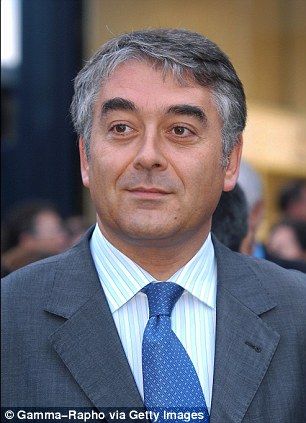 Surrounded by armed police, Mr Bourdouleix was trying to persuade the new arrivals to move on.
But as he began to speak to community leaders, some of the Roma gypsies standing by began to make Nazi salutes in his direction.
Mr Bourdouleix was recorded by a local journalist saying: 'Like what, Hitler didn't kill enough'.
---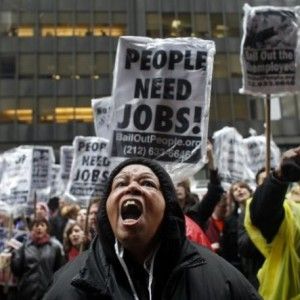 Everything is going to be just great. Haven't you heard? The stock market is at an all-time high, Federal Reserve Chairman Ben Bernanke
says that inflation is incredibly low
, and the official unemployment rate has been steadily declining since early in Barack Obama's first term. Of course I am being facetious, but this is the kind of talk about the economy that you will hear if you tune in to the mainstream media. They would have us believe that those running things know exactly what they are doing and that very bright days are ahead for America. And it would be wonderful if that was actually true. Unfortunately,
as I made exceedingly clear yesterday
, the U.S. economy has already been in continual decline for the past decade. Any honest person that looks at those numbers has to admit that our economy is not even close to where it used to be. But could it be possible that we are making a comeback? Could it be possible that Obama and Bernanke really do know what they are doing and that their decisions have put us on the path to prosperity? Could it be possible that everything is going to be just fine?
Sadly, what we are experiencing right now is a "mini-hope bubble" that has been produced by an unprecedented debt binge by the federal government and by unprecedented money printing by the Federal Reserve. Once this "sugar high" wears off, it will be glaringly apparent that by "kicking the can down the road" Bernanke and Obama have made our long-term problems even worse.
Unfortunately, most Americans don't understand these things.
Most Americans just let their televisions do their thinking for them, and right now their televisions are telling them that everything is going to be fine.
---
Nicholas Watt & Charles Arthur
The Guardian
Tue, 23 Jul 2013 10:46 UTC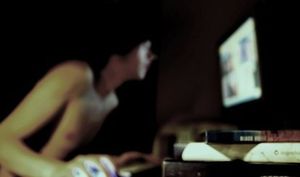 Every household in Britain connected to the internet will be obliged to declare whether they want to maintain access to online pornography, David Cameron will announce on Monday.
In the most dramatic step by the government to crack down on the "corroding" influence of pornography on childhood, the prime minister will say that all internet users will be contacted by their service providers and given an "unavoidable choice" on whether to use filters.
The changes will be introduced by the end of next year. As a first step, customers who set up new broadband accounts or switch providers would have to actively disable the filters by the end of this year.
---

Organized "bash mob" crime rampages of roving groups attacking innocent people and businesses have been striking cities around the United States. Law enforcement agencies in Southern California have reported few similar problems -- until now.

In the last several days, there have been several reports of such group crime waves in South L.A., Hollywood, San Bernardino and Victorville. Long Beach police are bracing for another one Friday.

These so-called bash mobs of "flash mob" crime waves are organized through social media and have been a problem in Chicago, Philadelphia and Washington. In April, 28 Chicago youths were arrested on suspicion of attacking pedestrians along the city's famed Magnificent Mile. Illinois Gov. Pat Quinn signed legislation in May enacting stiffer penalties for people who text or use social media to organize mob attacks.
---
RT.com
Fri, 07 Sep 2012 22:32 UTC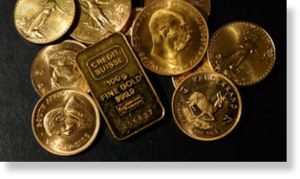 A federal judge has upheld a verdict that strips a Pennsylvania family of their grandfather's gold coins - worth an estimated $80 million - and has ordered ownership transferred to the US government.
Judge Legrome Davis of the Eastern District Court of Pennsylvania affirmed a 2011 jury decision that a box of 1933 Saint-Gaudens double eagle coins discovered by the family of Israel Switt, a deceased dealer and collector, is the property of the United States.
In the midst of the Great Depression, then-President Franklin Roosevelt ordered that America's supply of double eagles manufactured at the Philadelphia Mint be destroyed and melted into gold bars. Of the 445,500 or so coins created, though, some managed to escape the kiln and ended up into the hands of collectors. In 2003, Switt's family opened a safe deposit back that their grandfather kept, revealing 10 coins among that turned out to be among the world's most valuable collectables in the currency realm today.
---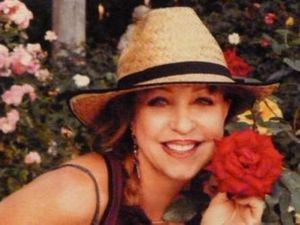 After leaving her operating room scrub nurse duties at Sarasota's Doctors Hospital on Wednesday, Louise Goldsberry went to her Hidden Lake Village apartment.
Her boyfriend came over, and after dinner - about 8 p.m. - Goldsberry went to her kitchen sink to wash some dishes.
That's when her boyfriend, Craig Dorris - a manager for a security alarm company - heard her scream and saw her drop to the floor.
Goldsberry, 59, said she had looked up from the sink to see a man "wearing a hunting vest."
He was aiming a gun at her face, with a red light pinpointing her.
"I screamed and screamed," she said.
But she also scrambled across the floor to her bedroom and grabbed her gun, a five-shot .38-caliber revolver. Goldsberry has a concealed weapons permit and says the gun has made her feel safer living alone. But she felt anything but safe when she heard a man yelling to open the door.
He was claiming to be a police officer, but the man she had seen looked to her more like an armed thug. Her boyfriend, Dorris, was calmer, and yelled back that he wanted to see some ID.
But the man just demanded they open the door. The actual words, the couple say, were, "We're the f------ police; open the f------ door."
Dorris said he moved away from the door, afraid bullets were about to rip through.
Goldsberry was terrified but thinking it just might really be the police. Except, she says she wondered, would police talk that way? She had never been arrested or even come close. She couldn't imagine why police would be there or want to come in. But even if they did, why would they act like that at her apartment? It didn't seem right.
---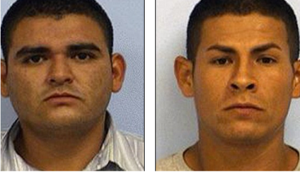 Ten men raped a 13-year-old girl who had run away from her home. They taped each other raping her on a cell phone and cheered each other on the entire time.
Two of the ten men have been charged for the horrific attacks, which happened on June 29 in Austin, Texas. The two captured suspects are 25-year-old Juan Lozano Ortega and 26-year-old Edgar Gerardo Guzman Perez.
The girl had run away from home prior to the attacks, and was staying in a group home for children. It was there that she met three unknown men and got into a car with them. Those three men have not yet been caught by officials.
The affidavit for the case said, "All of the other males took turns having sex with victim against her will, which lasted through the early morning hours."
---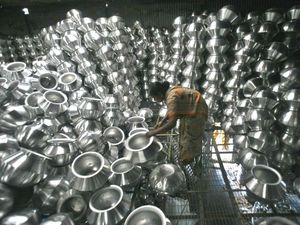 The Federal Reserve is currently "reviewing"
a landmark 2003 decision that first allowed regulated banks to trade in physical commodity markets
.
Why exactly shouldn't banks be able to trade physical commodities? To see one argument, take a look
at a big report from David Kocieniewski in today's
New York Times
.
According to Kocieniewski, a
Goldman Sachs-owned company has been involved in an elaborate plan to move around aluminum in a way that has inflated market prices
. The report states that every time an American consumer buys a product containing aluminum, they pay a price that has been affected by this maneuver. Sources told The
New York Times
that in total the plan has cost American consumers more than $5 billion over the last three years.
---