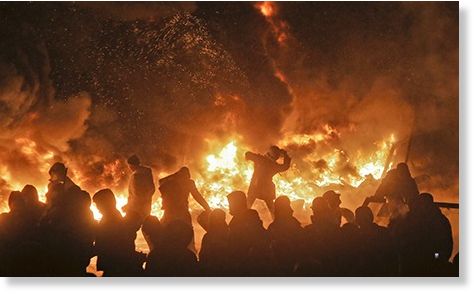 Former heavyweight boxer Vitali Klitschko says President Yanukovych has 24 hours in which to call snap elections
At least three people died in a day of violence in Kiev on Wednesday, as an opposition leader said he was willing to face "a bullet in the forehead" if President Viktor Yanukovych did not launch snap elections.
A three-hour meeting between the embattled president and the three main political opposition leaders ended without a deal, leaving the capital braced for intensified violence.
Two men died from bullet wounds on Wednesday, according to Ukraine's general prosecutor, while the third died after falling from a rooftop while fighting with police. Protesters report that dozens of people have been seriously injured during the clashes, which have been running since Sunday evening.
Parts of central Kiev resembled a battlefield, with police firing rubber bullets and wielding truncheons, while protesters lobbed molotov cocktails. The two men who were shot were killed with live ammunition, the authorities admitted. As night fell people drove cars filled with used tyres up to the main front line and made a giant bonfire, throwing molotov cocktails from behind the flames.