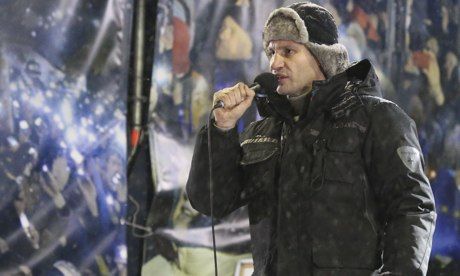 After declaring truce, opposition politician Vitali Klitschko said he would return to barricades later to announce results of talks
An eight-hour truce has been declared by protesters in Kiev after
a day of violence
in which at least three people died and an opposition leader said he was willing to face "a bullet in the forehead" if Ukraine's president, Viktor Yanukovych, did not launch snap elections.
The truce was announced by opposition politician and former heavyweight boxer Vitali Klitschko at midday Kiev time, as negotiations between opposition leaders and Yanukovych were expected to continue.
On Thursday afternoon Yanukovych called a special parliament session for next week to discuss the crisis, but there was no indication that this represented an inclination to compromise with the opposition.
On Wednesday, a three-hour meeting between the sides ended without a deal, leaving the capital braced for intensified violence.
After the truce was announced, protesters began to extinguish the huge burning barricade, made of thousands of tyres, which has separated them from lines of riot police and been the focal point of clashes.
Klitschko said he would return to the barricades at 8pm local time (6pm GMT) to announce the results of negotiations.