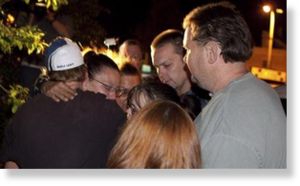 Canada, Toronto - A Canadian man was found guilty of the murder, assault and kidnapping of an 8-year-old girl on Friday, after a gruesome two-month court case that horrified the country.
A jury in London, Ontario, found Michael Rafferty, 31, guilty of first degree murder, kidnapping and sexual assault, dismissing his girlfriend's testimony that she alone was responsible for killing Tori Stafford.
"We got him. We got justice," Tori's father Rodney Stafford told reporters outside the courtroom, showing the waiting TV cameras a picture of Tori. "It was for every little girl in Canada. Nobody deserves what happened to her."
In graphic testimony during the trial, Terri-Lynne McClintic admitted she had kidnapped Tori from outside her school in April, 2009 and delivered her to Rafferty, who raped the child.