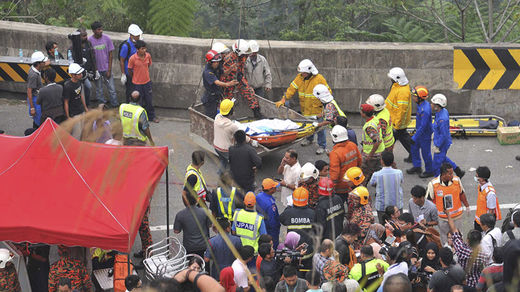 Malaysian rescuers recovered 37 bodies after a tourist bus plunged into a ravine near a resort outside Kuala Lumpur on Wednesday, killing many of the passengers in one of the worst road accidents in many years.
"Rescue operation is still on. We think there were 53 passengers on board, but we are not sure," said Che Shaari Abdullah, an assistant director at Kuala Lumpur's Fire and Rescue Department. The cause of the accident is still being probed, he added.
Malaysian emergency services personnel work to rescue passengers after a bus carrying tourists and local residents fell into a ravine near the Genting Highlands, about an hour's drive from Kuala Lumpur.
Fire Department spokesman Christopher Chong said that the bus was likely overloaded as it was meant to carry only 44 passengers.
The bus was coming back from the Genting Highlands - a patch of hillocks 55 kilometers (34 miles) from Kuala Lumpur and home to Malaysia's only casino - when it skidded off the road Wednesday afternoon.
Sixteen passengers were rescued - some with serious injuries - and are being treated in hospitals in Kuala Lumpur and its suburbs, the official said.