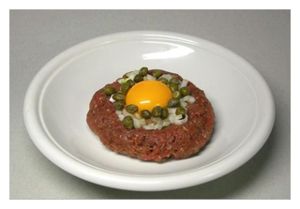 Vaud - Just when you thought the whole horse meat scandal was over, two Swiss restaurants have been caught using horse meat instead of beef in their steak tartare dishes.
The scandal was uncovered by "A Bon Entendeur", a consumer affairs program aired on Tuesday by the French language Swiss broadcaster,
RTS
.
Both restaurants are in the canton of Jura and the consumer affairs program tested 15 of the raw meat meals from restaurants in western Switzerland. A chemist who analyzed the phoney steak tartare said,
"One can properly talk of obvious and blatant deceit."
However, there is not just deceit involved in the incident, as apparently only four meals tested were found to be free of elevated levels of bacteria. Bearing in mind that the meat in the dish is served raw, one can only imagine the dangers.
In restaurants in the canton of Vaud, two plates of steak tartare were found to be particularly infected, and exceeded the acceptable levels for bacteria many times over.