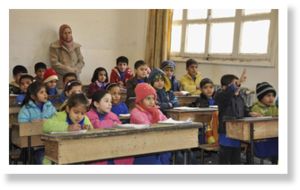 At least 250 million of the world's
650 million primary school age children are unable to read, write or do basic mathematics
, according to a report Wednesday commissioned by the U.N. education agency.
The report found that 130 million are in primary school but have not achieved the minimum benchmarks for learning, and almost 120 million have spent little or no time in a classroom including 57 million youngsters who are not attending school.
The independent research team that wrote the report for UNESCO, the U.N. Educational, Scientific and Cultural Organization, calculated that the cost of 250 million children around the world not learning translates to a loss for governments of around $129 billion annually.