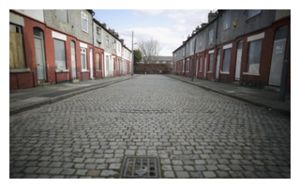 The most deprived communities in the country are bearing the brunt of government cuts while more affluent areas are escaping relatively unscathed, according to an analysis of official figures.
Labour said the data showed that the government was hitting the poorest communities the hardest and failing to live up to its commitment to ensure that those with the broadest shoulders bear the largest burden.
Councils in the 10 most deprived areas of England are facing cuts averaging 25.3% in the financial years 2010-11 to 2015-16, compared with 2.54% in the 10 least deprived areas.
The figures were drawn up by Paul Woods, the veteran treasurer of Newcastle city council. Woods took government figures on the level of cuts to the 326 local authorities in England and compared them with the multiple indices of deprivation issued by the Department of Communities and Local Government.
Liverpool city council, with the highest deprivation score of 43.45, is suffering cuts of 27.1%. Hart district council, with the lowest deprivation score of 4.47, is facing cuts of 1.5%.