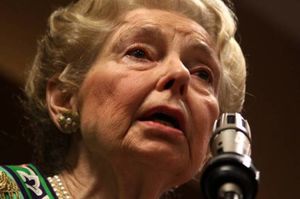 The college-educated Schlafly thinks colleges should reduce the number of women they admit
Conservative icon Phyllis Schlafly is worried that college campuses are populated by too many women, a phenomenon she insinuated has contributed to increased sexual assault on campus.
In a Monday
column
for the far-right website
World Net Daily
, the longtime anti-feminist crusader lamented the declining portion of university enrollments accounted for by men. Schlafly - BA and JD, Washington University in St. Louis; MA, Radcliffe College - argued that it may even be time to implement quotas to ensure that men constitute at least half of a college's enrollment.
"Long ago when I went to college, campuses were about 70 percent male, and until 1970 it was still nearly 60 percent," Schlafly wrote. "Today, however, the male percentage has fallen to the low 40s on most campuses."
Never one to shirk
victim-blaming
, Schlafly proceeded to link the problem of campus sexual assault to the increased enrollment of women in postsecondary institutions.
"Boys are more likely than girls to look at the cost-benefit tradeoff of going to college," Schlafly asserted.
"The imbalance of far more women than men at colleges has been a factor in the various sex scandals that have made news in the last couple of years."
With so many women around, what do you expect a college man to do - seek consent!?