Police in Essex are investigating reports that a lion has been spotted in a field near St Osyth.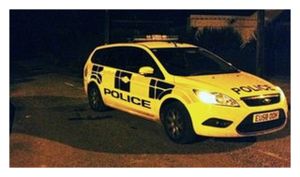 Residents have been advised to stay indoors after the sighting in fields off Earls Hall Drive at 19:00 BST.
Essex police are working with experts from Colchester Zoo who believe the reports to be genuine after being shown a photograph by a member of the public.
Local resident Che Kevlin told the BBC: "I heard a loud roar at 10pm. It sounded like the roar of a lion."
Armed police have been drafted into the area and two police helicopters are searching the area where it was spotted.
Essex police say about 25 officers are on the scene, including around a dozen specialist firearms officers, and experts from Colchester zoo are also on hand.
A force spokesman said there had been no sightings of the lion reported to police in the last few hours but that the search would continue through the night.
Police said all the animals at Colchester Zoo had been accounted for.
The spokesman said a circus had been in the area, at Clacton Airfield, recently but added: "Officers have spoken to the circus and confirmed that they do not have an animal missing, nor do they have any lions."