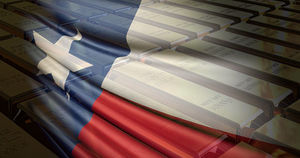 When Governor Greg Abbott signed
House Bill Number 483
in his own hand this past Friday, Texas gave Wall Street a big gold "finger" and
will soon bring $1 billion in gold bars back to the Lone Star State
.
The University of Texas made headlines in 2010 by adding more than $500 million in gold to their endowment. The decision to plough half a billion dollars into gold was only the first chapter of the story. Perhaps the bigger news was the choice not to simply buy shares in a gold ETF or gold futures contracts.
Custodians decided to buy physical bars instead - signaling a distinct lack of faith in paper gold
.
Like most gold investors, they have seen very little to inspire confidence since. In fact, those with the fiduciary responsibility for managing the Texas gold are feeling less certain than ever. That's why they convinced state officials to build a depository and move the gold bars home from Wall Street.
Texas joins Germany, Venezuela, the Netherlands, and other governments that have lost trust in New York depositories for safeguarding their metal
.
Who could blame them?