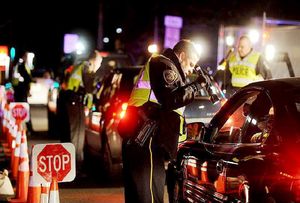 The US government's use of traffic checkpoints to gather drunk and drugged driving information from motorists has come under fire recently, so much so that some police agencies are withdrawing their participation.
These checkpoints, established by a subcontractor for the National Highway Traffic Safety Administration, are co-manned by off-duty, uniformed officers and intended to ask people about their driving habits. Although participation is voluntary, the presence of uniformed officers has pushed many Americans to complain they feel compelled to comply with requests.
Fueled by mistrust of the government due to the burgeoning National Security Agency surveillance scandal, the fact that some checkpoint workers collect blood, saliva, and breath samples has only amplified concerns.
As
RT
reported
in mid-2013, police in Ohio were criticized for setting up fake checkpoints in order to randomly stop cars and search them for drugs. Since it's illegal for police to stop and search vehicles without probable cause, the sham checkpoint system has been criticized as unconstitutional. The American Civil Liberties Union is investigating the issue and considering taking legal actions.
Meanwhile, police and checkpoint workers in Reading, Pennsylvania raised eyebrows in December when reports began surfacing that they were asking drivers to provide DNA samples as part of the NHTSA survey. One resident said he was never told what the sample would be used for and had to refuse to hand one over multiple times before he was finally allowed to go.