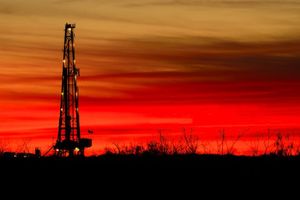 About 1,600 gallons of oil-based lubricant leaked into an Ohio river tributary this week, after an equipment failure at an oil and gas well.
The rig site is located in southeastern Ohio near the town of Beverly, and is owned by PDC Energy Inc. One of the company's contractors is handling the cleanup, under the supervision of Ohio's Environmental Protection Agency. A spokesperson for PDC
told the Associated Press
that workers at the site noticed a build up in high pressure in the well, but were unable to contain it thanks to malfunctioning equipment at the well head.
That released the oil based fluid, called "mud," which is used to lubricate the equipment in the well bore during drilling. The mud reached a creek that serves as a tributary to the Muskingum River, and cleanup crews are using containment dams to prevent the fluid from spreading any further.
Both the sheriff and fire departments for Morgan County were called in following the leak, and PDC paid to relocate several nearby residents
to ensure
no one would be harmed if leaking natural gas led to an explosion. Officials said the spill was contained by Wednesday, though also added it could be harmful to marine life.
The well had been intended for hydraulic fracturing, but the fracking process hadn't yet begun when the leak occurred. PDC Energy has 15 active wells in Ohio and permits for 18 more, but this is the only reported spill the company has in the state. It did suffer a spill of fracking fluid at a Colorado well in February of 2013.