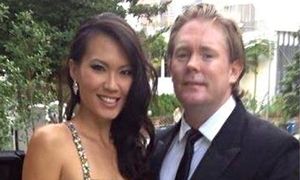 Name:
Anton Casey
Age:
39.
Appearance:
Pasty expat Brit.
That's not very nice.
I don't think you'll find many people who have a good word to say about Mr Casey.
What does he do?
He's a fund manager.
In that case, fire away.
Amazingly, Casey's job is the least unattractive thing about him.
What's his problem?
Casey - who lives in
Singapore
- had to leave his Porsche at the garage, obliging him to take the train.
Good for him to see how the other half lives.
He then posted a picture of his son sitting on said train on Facebook, along with the caption: "Daddy, where is your car & who are all these poor people?"
Nice.
Casey later posted another picture of his son sitting in the newly repaired Porsche, with the words: "Ahhhhhhhhh, reunited with my baby. Normal service can resume, once I have washed the stench of public transport off me ...!"