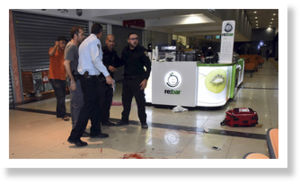 An IDF soldier was killed and 11 others injured when an Arab attacker, armed with a gun and a knife, opened fire at a bus station in the city of Beersheba in the south of the country. Local media also said that an Eritrean man was mistaken for an assailant and attacked by police.
The perpetrator made his way into the station and started shooting and stabbing people inside, in what is one of the most violent attacks since the escalation began, the police said. An Israeli soldier was killed, four police officers were lightly injured and seven civilians received wounds of varying degrees in the attack.
Despite bringing a gun with him, the man also snatched the weapon from the soldier he gunned down, Yoram Halevy, a police commander in southern Israel, told journalists. The Arab attacker, whose identity was not immediately revealed, was shot and killed by the police, she added.
It was initially reported that the attacker had an accomplice, who was wounded and detained by the police. But it later turned out that the Israeli security forces shot a foreign national after mistaking him for the assailant.
Police responding to the attack entered the bus station from another area and saw a
"foreign national
," opening fire and wounding him, Halevy confirmed.