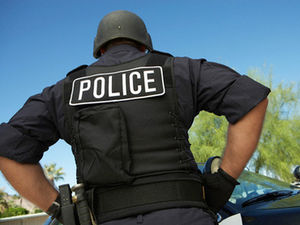 One California cop has been charged with murder and another with manslaughter for the July 5 beating that resulted in the death of a mentally ill homeless man.
Kelly Thomas was assaulted by police officers for nearly 10 minutes earlier this summer after Fullerton, CA police officers approached him about a rash of automobile break-ins occurring in the area. The Orange County District Attorney says that the officers knew that Kelly was homeless and mentally ill when they responded to the scene, but that didn't keep them from using excessive force.
A 10-minute-long attack on Thomas left his thorax ravaged and he became unable to breathe regularly or deliver oxygen to his brain. Hospital records also show that Thomas choked on his own blood and was repeatedly shocked with two stun guns. DA Tony Rackauckas said in a conference yesterday that Thomas acted "in self-defense, in pain and in a state of panic" when officers unleashed on him. Audio recordings clearly contain screams and cries for help while Thomas is being attacked.