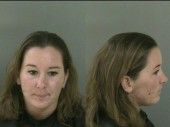 Florida - A mother and daughter were charged with animal cruelty after they recorded two dogs attacking and killing a pig in their backyard and posted the video on Facebook, Sheriff Deryl Loar said Thursday.
"Get him! Bite him!" shouted Janice Kay Ramirez, 55, as she recorded the five-minute attack by the cur mix dogs, according to the clip released by the Indian River County Sheriff's Office.
She and Ashley Ann Ramirez, 21, both of the 2300 block of 84th Court, Vero Beach, were investigated after someone anonymously sent a copy of the video to authorities in March, Loar said. Deputies had to subpoena Facebook to get the address for the home in the video. Ashley Ramirez was on the video coaxing the dogs to attack.
"It's one of the worst animal cruelty cases we've seen," Loar said about the attack on the pig, which managed to squeal throughout the ordeal despite its snout being closed with duct tape.