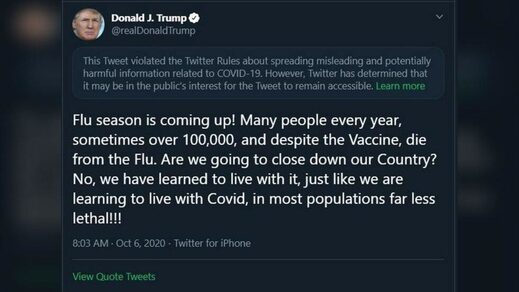 Facebook and Twitter have, unsurprisingly, bowed once again to pressure from the left.
Today, Facebook removed, and Twitter placed an interstitial, or filter, on a
post
from President Donald Trump in which he stated that COVID-19 is less lethal "in most populations" than the "Flu."
"Facebook has been criticized for not removing posts that violate community guidelines in a timely manner," said
Axios
, "yet the company sprung to action when Trump posted misinformation about the virus that 'could contribute to imminent physical harm.' Twitter took action about 30 minutes later."
Twitter's interstitial claimed that the tweet "violated the Twitter Rules about spreading misleading and potentially harmful information related to COVID-19. However, Twitter has determined that it may be in the public's interest for the Tweet to remain accessible." Although Twitter did not remove the tweet entirely, users must click "view" in order to see the tweet.