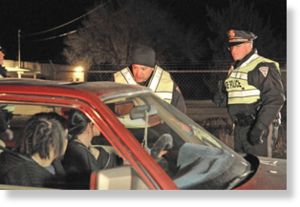 The New Mexico State Police officer who was photographed having sex on the hood of a Honda is no longer a cop.
Bert Lopez was informed late this week that the Department of Public Safety has fired him,
The New Mexican
has learned.
It is unclear when that decision was made as agency spokesman Sgt. Tim Johnson has declined to comment until all appeals have been exhausted.
"It is an embarrassing situation for the department, but we have to remember the rights of the employee afford him due process we must follow so we won't be commenting further," Johnson said.
But when asked Friday evening if Lopez was still employed with the New Mexico State Police, Johnson said, "No."