Istanbul - Research showing that mother's milk and babies' excrement contain traces of heavy metals, leading to increased risk of cancer, has put experts against officials in the northwestern province of Kocaeli. While both district and city mayors file a complaint against the professor leading the study, the professor claims that the officials are trying to prevent scientific research. 'People will protect the values of Dilovası, as the awareness has been created," professor says.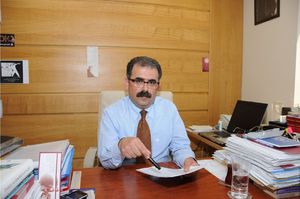 A complaint has been filed over a report published by an expert saying a high amount of heavy metals, including mercury and arsenic, were detected in mother's milk and babies' excrement in Turkey's northwestern Kocaeli province. The professor is accused of threatening to incite fear and panic among the population.
Mothers' milk and babies' excrement samples from residents in the Dilovası district were found to contain high amounts of mercury and arsenic, according to an eye-opening report released Jan. 8 by Onur Hamzaoğlu, head of the Public Health Department at Kocaeli University.
Both the Kocaeli mayor and the Dilovası mayor have filed a complaint against Hamzaoğlu and the court case files have been sent to the university's rector's office, daily Milliyet reported Friday.