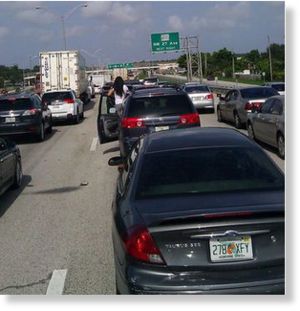 One mystery was solved when police arrested the tattooed man who left his fake-weapons-laden hearse under the Palmetto. Other questions - like 'why?' - remained.
Was it a faux terrorist plot? A malicious prank? Performance art?
One man knows for sure - and he is sitting in jail Sunday while waiting for a mental health evaluation, days after a bizarre episode in which a hearse, abandoned underneath the Palmetto Expressway at Northwest 27th Avenue, brought rush-hour traffic to a standstill for more than five hours.
Lee Lewis, 28, who bills himself on his MySpace page as a fetish model and fireplay entertainer, was being held at a downtown Miami detention center Sunday on $36,500 bond.
The state requested the mental health evaluation Sunday after police found Lewis' tricked-out hearse, festooned with silver skulls and outfitted with green undercarriage lighting under the Palmetto on Friday afternoon. The officers thought they spotted automatic weapons, an anti-tank rocket and other explosives inside - and immediately closed the road to cars and pedestrians. The Miami-Dade bomb squad rushed to the scene.
The following day, an investigation found that the weapons were bogus.
"They were good replicas," Miami Gardens Police Chief Matthew Boyd said Saturday. "But they were fake."
Lewis turned himself in Saturday morning, Boyd said.