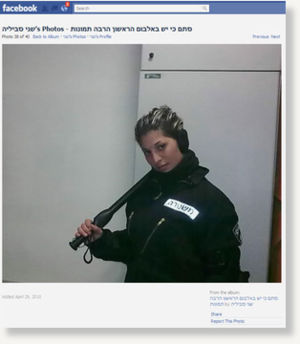 A new expose of Israeli police brutality and torture exploded yesterday with reports that a member of a special Border Police unit,
Shani Sivilia, had been accused of torturing a Palestinian boy in March 2010, by cocking and pretending to fire her pistol into his head at close range, all in response the 'deadly' act of his possessing three firecrackers.
While the charges brought against her were shocking enough, even worse was the discovery by Israeli journalist, Ido Kenan, of her Facebook page, which is replete with the feverish product of what Ido cinematically calls "Dangerous Mind." Kenan has
published a version
of this in
Yediot
.
Yesterday, I wrote about the specific charges brought against her by the police special affairs unit. Today, we'll examine the contents of her formerly publicly accessible Facebook page (now private). There are a number of interesting themes running through this material which it's worth paying close attention to. First, Sivilia is a Mizrahit. As such, she clearly feels a profound need to separate herself from the Palestinians who, if she saw her own image in the mirror, she would resemble.
But there is a desperate need among some Israeli Jews of Arab origin to say: "We're not like them. We're better than them." This is phenomenon, of course, not restricted to Israel. This happens in all societies in which there are waves of immigration and the penultimate ethnic newcomer seeks to distinguish itself from the most recent wave, which is at the very bottom of the social status pyramid.