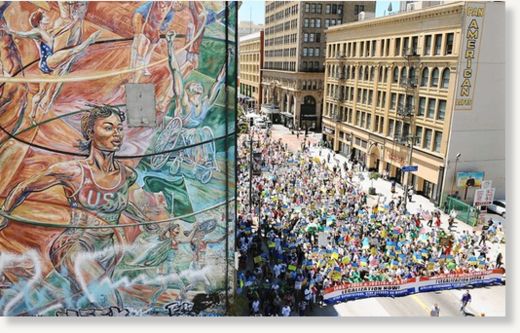 Hundreds of thousands rallied in downtown L.A. for immigration reform in 2006, and last year's event drew 60,000. One student said attendance is dropping because 'people are starting to lose hope.'
Few people felt the low turnout at this year's May Day march as acutely as Salvador Ramirez.
Ramirez, an illegal immigrant from Jalisco, Mexico, pushed a cart among the few thousand immigrant-rights and labor activists Sunday on Broadway, selling American flags.
"It's really bad," said Ramirez, 48, who said he lost his job as an electrician due to his lack of documents and became a street vendor a year and a half ago. About halfway through Sunday's march, Ramirez had only sold about 10 to 15 flags, which he buys for $7.50 a dozen.
"I'm selling them almost at cost," he said. "It's not like the year before. Last year was great."
Only a few thousand people showed up for the nine-block march that started early and ended quickly. Los Angeles police declined to issue a crowd estimate, but marchers didn't even fill the intersection of Broadway and 1st Street, where the demonstration ended.
It marked a steep drop-off for a movement that prided itself for bringing hundreds of thousands onto the streets of downtown in 2006, and a million nationwide, to rally for legislation that would legalize the nation's 11 million illegal immigrants. Last year, galvanized by Arizona's controversial anti-illegal-immigration law, about 60,000 marchers participated in Los Angeles.