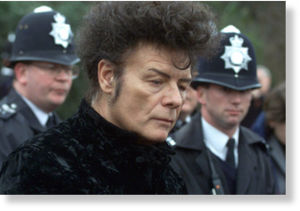 London - Police investigating child sex abuse allegations against the late BBC television host Jimmy Savile arrested former glam rock star and convicted sex offender Gary Glitter on Sunday, British media reported, raising further questions about whether Savile was at the center of a broader pedophile ring.
Police would not directly identify the suspect arrested Sunday, but media including the BBC and Press Association reported he was the 68-year-old Glitter.
The musician, whose real name is Paul Gadd, made it big with the crowd-pleasing hit "Rock & Roll (Part 2)," a mostly instrumental anthem that has been a staple at American sporting events, thanks to its catchy "hey" chorus. But he fell into disgrace after being convicted on child abuse charges in Vietnam.
Sunday's arrest was the first in a widening scandal over Savile's alleged sex crimes. Hundreds of potential victims have come forward since police began the investigation into sex abuse allegations against Savile, a much-loved children's TV presenter and disc jockey who died at the age of 84 last year.
Most have alleged abuse by Savile, but some said they were abused by Savile and others. Most claimed they were assaulted in their early teens.
The scandal has raised questions about whether the BBC, the publicly funded and trusted broadcaster, had ignored crimes it suspected over several decades. Its executives have apologized and vowed to uncover the true scale of the alleged abuse.