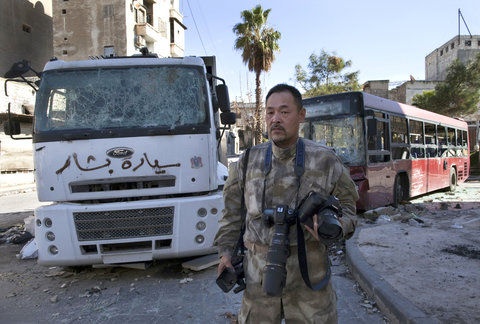 Toshifumi Fujimoto's vacation pictures, posted on his Facebook page, show him in poses familiar to any tourist. He lines up with interesting people, tries local activities and shows the sights. Except in the case of Mr. Fujimoto, a Japanese tourist, that means images of what appear to be Syrian rebel fighters engaged in battle, of himself firing an assault rifle and of the corpses of some of the 60,000 people the United Nations has said have died in Syria since a civil war began there early last year.
Mr. Fujimoto, 45, is, according to an interview he gave the news agency Agence France-Presse in Aleppo, Syria, usually a trucker hauling loads between Osaka and Tokyo or Nagasaki. For the last week and on a previous trip, he has been a tourist snapping pictures with his Canon D-SLR cameras and a compact video camera in Aleppo - the very heart of the Syrian conflict. (A link to his Facebook page is here, with the warning that it contains very graphic images.)
He told the news agency, via Google Translate, that he had sneaked across the border from Turkey and taken up a position where the fighting is heaviest. "I always go by myself, because no tour guide wants to go to the front," Mr. Fujimoto said. "It's very exciting, and the adrenaline rush is like no other."