Explosions and ensuing fire follow reported raid on factory by locals as President Saleh makes U-turn on exit deal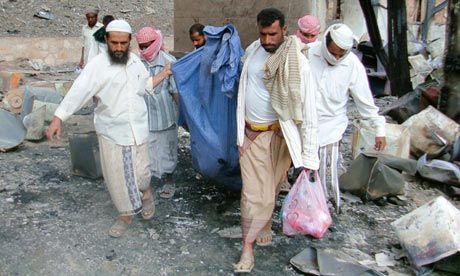 At least 121 people have died after a series of explosions at a munitions factory in southern Yemen, as President Ali Abdullah Saleh was losing his grip on parts of the country amid an anti-regime revolt.
Witnesses said the blasts occurred on Monday after locals from the town of Jaar in Abyan province broke into the factory that was stockpiled with kegs of gunpowder. An ensuing fire spread to nearby houses, killing and injuring dozens of people.
"So far we've counted 121 separate bodies but the death toll could be double that, so many of the corpses have been lost in the inferno," said Marfiz Al-Sharbi, a Syrian doctor working in a nearby private hospital. "There are tens of corpses buried in the factory too."
On Sunday, the army was said to have deserted the town after a weekend of deadly clashes with gunmen the government claimed were al-Qaida in the Arabian Peninsula (Aqap).
"We hold al-Qaida responsible for this tragic incident that killed innocent citizens who fell victim to the trap of those terrorist elements," a government source told the state news agency Saba.