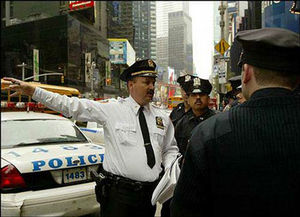 A senior Iranian commander said that the US plans massive deployments of police forces in major cities fearing the eruption of popular protests similar to the recent developments in the Middle East, the Arab world and the European countries.
The Deputy Head of Iran's Armed Forces Joint Chiefs of Staff Brigadier General Massoud Jazayeri described the deployment of US police forces in cities as "military rule," which basically aims at a quick crackdown on political unrest in the country under a "threadbare" pretext of preventing terror attacks in the US.
He noted how incumbent US President Barack Obama has followed in the path of his predecessor, George W. Bush, in inflicting huge costs on US taxpayers through the continuation of the Bush-era war policies.
Difficult living conditions, unemployment, an increasing suicide rate among US troops and the Americans' inability to pay off their mortgages are among other hardships the Obama administration has brought about for the people in the United States, Jazayeri added.