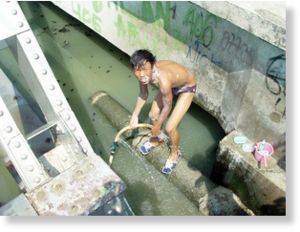 The droughts currently ravaging California, which will likely send food pricesgh soaring down the road, have highlighted the importance of available freshwater supplies. As 17 communities in California are within 60 days of running out of drinking water, the ability of companies like Coca-Cola (NYSE: KO) and Nestle (NASDAQOTH: NSRGY) to effectively privatize water supplies feels awfully disconcerting. While the rains that just began to fall out west may bring some measure of relief, the fact remains that the world is coming up hard against a water crisis.
Water, water, everywhere ... right?
Most people view water as an infinite, inexhaustible resource, much like air. After all, it's part of a whole natural cycle, right? For most practical purposes, though, water -- especially clean, safe drinking water -- is resolutely finite and exhaustible. It's getting worse as the global population hurtles toward the 9-billion mark, as agricultural and fuel extraction guzzle more and more water, and as climate change adds growing stress to existing supplies.
Consider a few alarming indicators:
One in seven people around the world lack access to safe drinking water.
The Global Economic Forum identifies water crises as the third most serious risk the world faces in 2014.
The poorest 20% of households in El Salvador, Jamaica, and Nicaragua spend up to 10% of their income on water.
From 2003 to 2010, parts of Turkey, Syria, Iraq, and Iran lost 144 cubic kilometers of stored freshwater -- about the same amount of water as there is in the Dead Sea. Many scholars draw a solid line between water scarcity and the recent conflicts in those regions, and the U.S. director of national intelligence sees global water overuse as a potential threat to national security.
NASA data from Jan. 17 showed California's backup groundwater reserves to be so depleted that the losses could be detected from satellites 400 kilometers above the earth's surface.