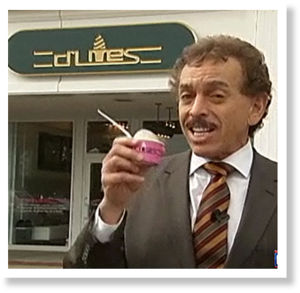 A "Shame, Shame, Shame" segment aimed at an ice cream chain that bills itself as a "healthier alternative" to the frozen delight was "lame, lame, lame," according to a new lawsuit.
Television reporter Arnold Diaz is being sued by the owner of three D'Lites Emporium stores after the Fox 5 consumer advocate inducted the chain into his "Hall of Shame" for allegedly misleading consumers about the nutritional content of its ice cream.
Matthew Prince, who operates D'Lites stores in Bayside, Babylon and Commack, contends he was shamed last month in a "grossly irresponsible" eight-minute segment that accused the chain of selling products that aren't "low carbs" or "low in sugar."