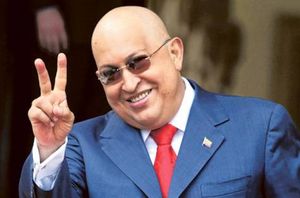 Venezuelan Vice President Nicolas Maduro announced the heightening of measures against economic sabotage in the country last Friday after meeting with President Hugo Chavez, currently recovering from cancer surgery in the military hospital Dr. Carlos Arvelo in Caracas.
Maduro reported that the convalescing head of state gave orders to confront sectors of the Venezuelan private sector that through hoarding and price-hiking have been attempting to sow instability in the country.
"The President was very clear in saying that we have to increment the actions to confront the economic war that the bourgeoisie is waging against the people. It's a real economic war and we must continue winning it", Maduro said in a press conference.
Friday's meeting with Chavez lasted for more than 5 hours and included the presence of Oil Minister Rafael Ramirez, Science Minister Jorge Arreaza, Communication Minister Ernesto Villegas, and the head of the national intelligence service Miguel Rodriguez.
While details on the actions that will be taken against those members of the business community who engage in illicit activity were not forthcoming, Maduro said that they would be formulated "to favor the public and our national interests".